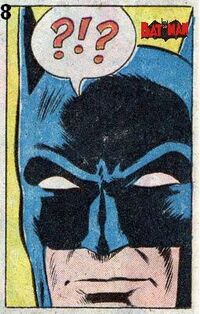 Batman #8 is a unique comic book in the fact that it only has two pages. Despite this, these two pages are considered to be some of the greatest pages in comic book history. Of course, that's not saying much.
Batman vs The Creature
Edit
Bruce Wayne is patrolling Wayne Manor when suddenly, a weird creature emerges! The creature begins to wail, and Batman doesn't know what to do. He attempts screaming at it, offering it food, and even singing to it. Nothing works. Then Alfred walks up, changes its diaper, and the day is saved.
Appearances
Edit
The story was originally going to be called Batman vs The Monster. Other possible names were Batman vs The Beast and Batman vs Certain Death
Ad blocker interference detected!
Wikia is a free-to-use site that makes money from advertising. We have a modified experience for viewers using ad blockers

Wikia is not accessible if you've made further modifications. Remove the custom ad blocker rule(s) and the page will load as expected.